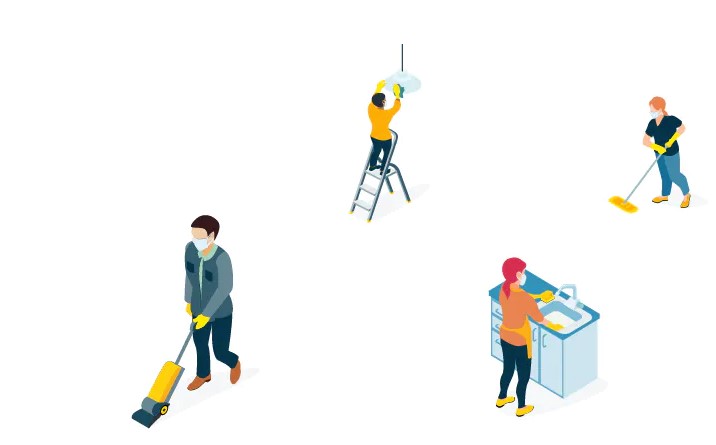 To promote the health and safety of our guests, property owners, and teams, we're taking the following actions as part of our Premium Clean program.
We've introduced an additional disinfection step to our cleaning process, and we've increased the time our housekeepers spend caring for each Jasper rooms.
Protecting our teams

The health and safety of our teams is of the utmost importance to us. Our employees will be provided with, and expected to wear, personal protective equipment (gloves and face masks) at all times while visiting property for maintenance, housekeeping, or any other purpose. Also, only one employee will be present in each rooms at a time. If more than one employee happens to be in a room, they will maintain 6 feet of distance from each other at all times.
If an employee shows signs of illness, or reports coming into contact with someone who is suspected of having COVID-19, they will not be allowed to work.
Maintenance requests from guests during their stay are being evaluated based on the urgency of the need. Non-emergency maintenance items will be addressed after check-out. For anything that requires immediate attention during a stay, guests will be asked to leave the room or remain in a different room from the employee, and the employee will wear a mask and gloves while in the home.
Sanitizing and disinfecting
To maximize ventilation and air out the room, our housekeeping staff will turn on ceiling fans and/or open windows while cleaning. They will then close and lock all windows before leaving the property.
We're washing and drying all towels and sheets at high temperatures, and employees put on fresh gloves prior to remaking the beds and laying out clean towels.
Once the room is thoroughly cleaned, we treat both hard and soft surfaces throughout the hotel with a hospital-grade, EPA-approved disinfectant.
While disinfecting, we pay special attention to high-touch surfaces, including: doorknobs (inside and out), lockboxes or electronic lock panels, elevator buttons, stair railings, telephones, light switches, remote controls, arms of chairs, refrigerator door handles, sliding door handles, toilets, faucets and knobs, clothes hangers, touch screens, and play sets/toys, to name just a few.
The enhanced Jasperrooms Premium Clean procedures we've adopted build on the level of care that guests have always been able to expect from a Jasperrooms stay.
All housekeepers employed by Jasperrooms receive training on proper cleaning procedures and the use of cleaning chemicals, so every home is not only clean but safe and ready for guests to enjoy worry-free. We continue to use standard cleaning products that are non-toxic and environmentally friendly, in combination with our EPA-approved disinfectant.
Before every guest stay, rooms are cleaned and reset. We use a systematic method to ensure that every part of the room is guest-ready. As part of this process:
· Interior of the room is cleared of any items left behind by previous guests, and all surfaces are wiped clean.
· Hard-surface floors are swept clear of debris and mopped. Carpets and area rugs are vacuumed.
· Sheets are freshly laundered and placed on beds.
· Towels are freshly laundered and placed in bathrooms and kitchens.
· Refrigerator, freezer, microwave, and coffee maker are cleaned.
· Dining table and chairs are wiped down and all drawers are clean and organized.
· Showers, bathtubs, and toilets are thoroughly cleaned.
· All trash cans are emptied and provided with a fresh liner.
· Exterior grounds are cleared, and outdoor chairs and tables are wiped down.
· Hot tub (if available) is securely covered, cleaned, and properly balanced.
When you stay with Jasperrooms, you can count on more than a clean room. Rooms are routinely inspected to make sure amenities are present and in working order. We also check that safety equipment (fire extinguisher, smoke detector, carbon monoxide detector, and first aid kit) is available for guest protection.
Finally, guests can simply arrive and relax, since we provide every room with starter amenities like hair and body care products, cleaning supplies (where permitted by law), and additional stock of basic household items like paper towels, and toilet paper.
Please note that all of these procedures are guidelines, meaning the minimum that will be done. We are monitoring and implementing additional procedures as required by local jurisdictions, and our baseline guidelines will continue to evolve as we gain additional knowledge and CDC guidance.